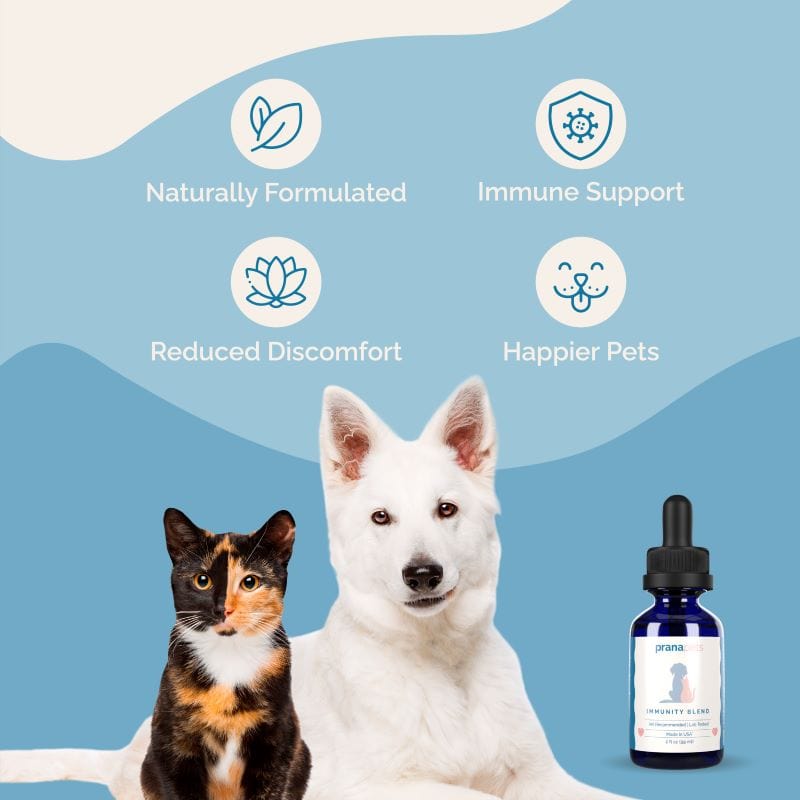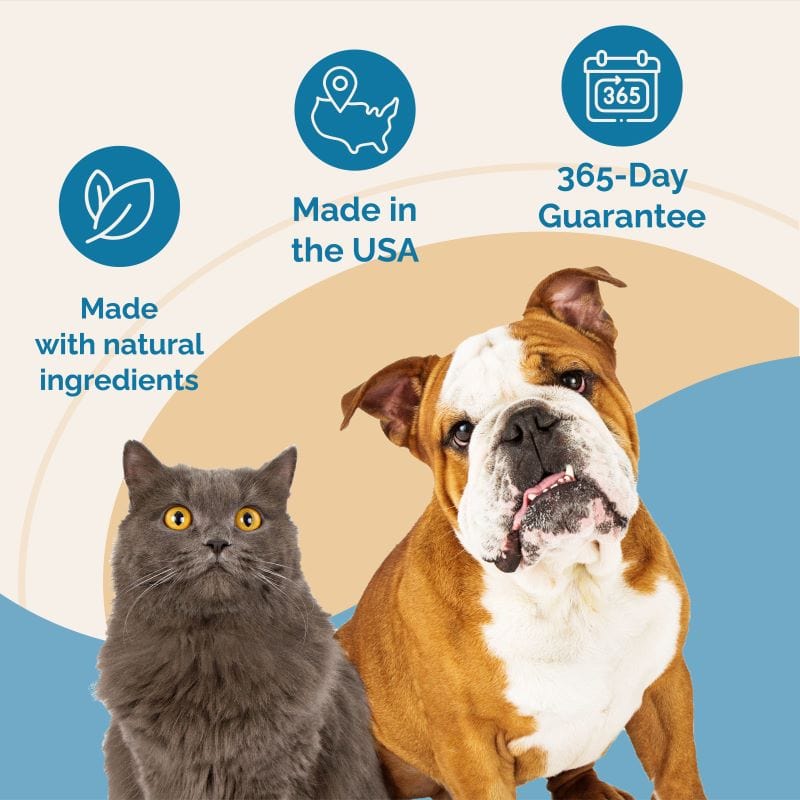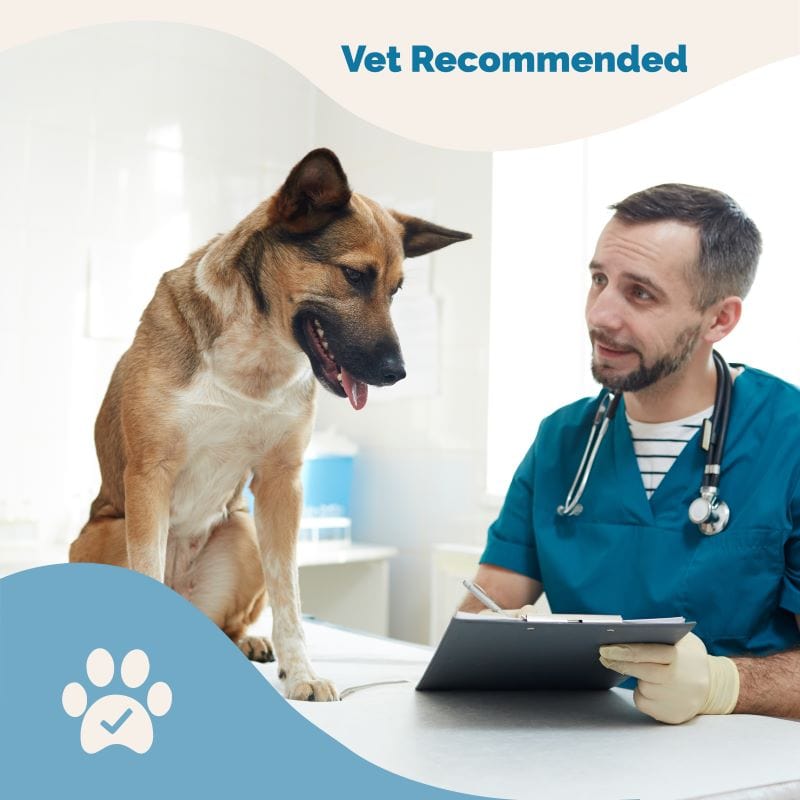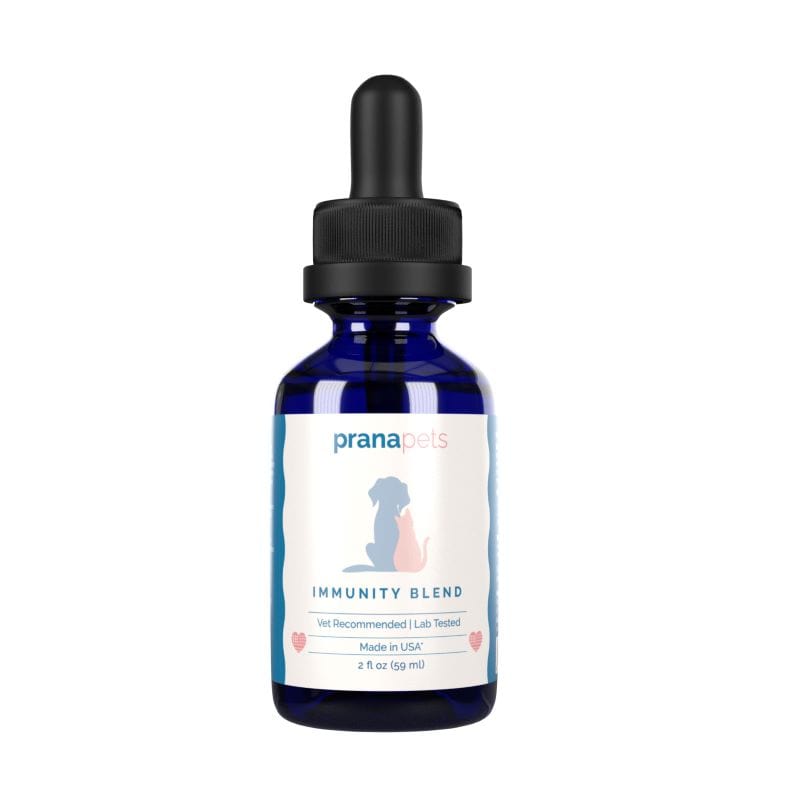 Money-Back Guarantee
Vet Recommended
Safe - Made in USA
Free Shipping
Description
Ingredients
Directions
FAQs
Certifications
Immunity Blend for Cats
Nature's Remedy
Prana Pets Immunity Blend helps promote a strong immune system for cats compromised by complications related to a weakened immune system. This product is formulated to work in conjunction with our other ailment specific products.
Immunity Blend is an herbal formula that promotes immune-boosting and systemic health support to both healthy and sick cats. The premium blend of natural herbs found in our proprietary formula may help with poor appetite, fatigue, digestion issues, liver health, and general weakness. Long-term, daily use of this immunity supplement may promote longevity and improved cognition, making it an excellent choice for kittens and cats of all ages.
A healthy, responsive immune system is essential in protecting against illness as a compromised immune system leaves the body vulnerable to sickness. While many synthetic drugs exist to treat problems after they develop, natural approaches can be a great option for health maintenance and preventative purposes. Medicinal herbs consumed daily can stimulate the immune system and help to enhance overall health and wellbeing.
All Prana Pets products are manufactured in FDA-inspected and cGMP (current Good Manufacturing Practice)-compliant facilities to ensure the highest levels of quality and safety. Nothing is more important to us than the health and safety of your pets!
GO NATURAL
Your Pet Deserves It
In addition to promoting healthy immune function, maintaining a normal inflammatory response is another necessary step in taking care of your cat's health. While a healthy diet and regular exercise should be the primary approach to maintaining a normal inflammatory response, there are also herbs that can provide excellent support. We have selected the herbs used in Immunity Blend specifically for their immune-boosting potential:
Panax Ginseng has been used for improving overall health, to strengthen the immune system and help fight off stress and disease.
Alfalfa alkalizes and detoxifies the body, especially the liver.
Blessed Thistle

is also used to aid the digestive system and detoxify the liver.

Sheep sorrel is used for inflammation and a variety of digestive issues.
Echinacea has been shown to improve immunity, blood sugar, anxiety, inflammation and skin health.
Milk thistle is often promoted for its liver-protecting effects.
Ginger root is used to treat fatigue, nervousness, insomnia, agitation and decreased immunity.
Cat's claw may stimulate the immune system, help relax the smooth muscles (such as the intestines) and act as a diuretic.
Active Ingredients per drop (0.05 mL): A proprietary blend of Blessed thistle (aerial parts), Ginger (root), Echinacea purpurea (herb & root), Sheep sorrel (aerial parts), Milk thistle (seeds), Alfalfa (leaf), Cat's claw (bark), Panax ginseng (root)
Inactive Ingredients: Citric Acid, Potassium Sorbate, Purified Water, Vegetable Glycerin USP
Shake well before use. Can be given during or after mealtime or administered orally 3-5 times a day. Use initially for at least one month.
DROPS PER ADMINISTRATION:
Cats under 20 lbs: 3-5 drops
Cats 20-50 lbs: 6-8 drops
Cats over 50 lbs: 10 drops
These are Frequently Asked Questions:

Q. Can this be administered alongside prescription medications such as Vetoryl?
A. The product should not interfere with any medications currently being administered. It is up to the customer if they would like to administer our product alongside other medications. Always speak to your vet about how to take your pet off prescription medications safely.

Q. How long does the bottle last?
A. A bottle will last at least one month. A bottle may last 2 months for smaller pets.

Q. Are there any side effects?
A. In most cases there are no serious side effects associated with this product. Always cross-check the ingredients with any pre-existing allergy your pet may have.

Q. How long before I see results?
A. You should see results within 3-4 weeks. If you are not satisfied we recommend taking advantage of our guarantee.
Q. What is your return policy?
A. We offer a 100% money-back guarantee for up to 365 days. If it's not helping send it back for a full product refund.
*These statements below have not been evaluated by Food and Drug Administration. This product is not intended to diagnose, treat, cure or prevent any disease. The information on this Web site or in emails is designed for educational purposes only. It is not intended to be a substitute for informed medical advice or care. Prana Pets bases these statements on the historically established and widely acknowledged traditional uses of natural ingredients.