Thank You! Use Code Breathing20 for $20 Off!
The Easy Breathing System
Relieves shallow, rapid and labored breathing associated with Asthma
Reduces respiratory problems linked to stress
Relaxes bronchioles
Promotes healthy lung functioning
Reduces mucus discharge and congestion from the nose and sinuses
Eases inflammation and discomfort in the sinuses
Opens blocked, inflamed nasal passages for improved breathing
The Easy Breathing system is designed to support;
Brachycephalic Airway Syndrome    -    Sinusitis        Asthma    -   Reverse Sneezing  -   Snoring  - Exercise Intolerance  -    Difficulty Panting   -Mouth Breathing - Snorting  -  Environmental Allergies -Irritants -Sinusitis- Runny Nose- Coughing-Sneezing- Environmental Allergies- Coughs-Wheezing- Blocked Nasal Passages- Nasal Congestion & Discharge
All Flat Faced and Small breeds will see the benefits! 
 Pugs, Boxers, Chihuahuas, Pomeranians, Yorkies, Brussels Griffon, Bulldogs, Boston Terriers, French Bulldogs, Mastiffs, Chow Chows, Pekinese, Lhasa Apso, Shih Tzus, English Toy Spaniels, Cavalier King Spaniels, American Bulldogs, Japanese Chin. Rottweiler. Dogue De Bordeaux,
Brachycephalic dogs
 have flat faces and were bred this way to closely resemble people and have a comical appeal. Some Bully type of breeds were probably flat faced for the inhumane sport of Bull Baiting.  These breeds or type of breeds have issues in hot weather because they cannot draw enough air in via panting to cool their body down and should never be overexercised in the heat.
   With excitement, stress or allergens they also have a condition called "Reverse Sneezing" which can be controlled. If dogs have Brachycephalic Airway Syndrome they might have extra long soft palates, narrowed or collapsed nostrils or narrow tracheas (windpipes) and should be monitored by a Veterinarian as it can be dangerous. 
      Breathing when obstructed is extremely unsettling in dogs and causes panic. Dogs do not know what to do or why it's happening.    Our Easy Breathing System helps to support natural, easy breathing to keep your dog relaxed and secure. 
    Vet Approved and Recommended 
Andrew Turkell, DVM, CVA, CCRT, CHT-V 
        "Prana Pets has created a tincture that can help,  I absolutely support this herbal remedy!"
No Prescription Required -Non-Addictive
Safe to use with current drugs - Starts Working Immediately -Keeps Dogs Calm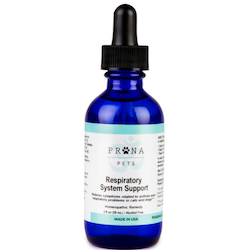 Respiratory Support
Althea 3X, Antimonium Sulphuratum Auratum 12X , Arsenicum Album 30C , Chelidonium 6X , Ephedra Vulgaris 6X ,  Inula 3X ,Kali Carbonicum 30C , Kali Muriaticum 6X, Lobelia Inflata 6X , Phosphorus 30C
Drops may be administered directly into the mouth or mixed with food.
Products May Be Administered Together
Respiratory & Sinu
Use 3 – 5 times daily.
Cats and dogs under 20 lbs: 10 drops.
Dogs 20-50 lbs: 15 drops.
Dogs over 50 lbs: 20 drops
  6 Tips on How to deal with Brachycephalic dogs
2 
.Hot
weather is the enemy. Never over-exercise these dogs in hot weather. If they have severe respiratory issues walk them earlier or later in the day when its cooler. Always carry water and it might not be a bad idea to carry a cooling fan or even put a cooling jacket on your dog. Hot weather can cause heatstroke because Brachycephalic dogs cannot draw in enough air to cool their bodies which can lead to vomiting or seizures.
5. If you notice your dog is really struggling during heat, stress or exercise meet with your Vet. Your dog could have
Brachycephalic Airway Syndrome
which can lead to serious respiratory distress, an elevated heart rate and a life-threatening crisis. In some cases surgical options like palate shortening or surgery to open up collapsed nostrils are essential.
The Easy Breathing System
Relieves shallow, rapid and labored breathing associated with Asthma

Reduces respiratory problems linked to stress
Relaxes bronchioles
Promotes healthy lung functioning
Reduces mucus discharge and congestion from the nose and sinuses
Eases inflammation and discomfort in the sinuses
Opens blocked, inflamed nasal passages for improved breathing
*The testimonials reflect the experiences of customers who used our products. However, individual results may vary. We do not claim, nor should the reader assume, that any individual experience recounted is typical or representative of what any other consumer might experience. Testimonials on this website are not intended, nor should they be construed, as claims that the products can be used to diagnose, treat, or cure, any disease. No testimonial has been clinically proven or evaluated by the FDA