S-Support is an herbal supplement that soothes and regulates the nervous system and supports the brain health of your Cat. 365 Day Money Back Guarantee
Supports the stable, balanced function of the brain and nervous system

Supports your cat's natural equilibrium

May help with twitching and other involuntary muscle movements

May help with stress-related episodes in high strung or nervous pets

S-Support is an herbal supplement that soothes and regulates the nervous system and supports the brain health of your Cat. 365 Day Money Back Guarantee
Supports the stable, balanced function of the brain and nervous system

Supports your cat's natural equilibrium

May help with twitching and other involuntary muscle movements

May help with stress-related episodes in high strung or nervous pets
 Seizure Symptom Support is a 100% herbal remedy specifically formulated to provide comprehensive, natural support to cats suffering from symptoms of Seizures. 
The herbs present in S Support help to soothe, strengthen and stabilize the nervous system and brain for reduced frequency and intensity of symptoms. 
Natural Seizure Support by Prana Pets provides an immediate calming effect that can help to ease anxiety and nervous tension in high strung pets, and long-term use offers unique benefits in improving brain and nervous system health over time. The Seizure Support system is well tolerated without unpleasant side effects.
"I am so thankful for this product. My cat was displaying symptoms of epilepsy.  It went from at least 4 seizures a day to one the first day of using the drops. By the 4th day, he was seizure symptom-free. I'm so happy we could go the natural route to control his seizures.  I've noticed he's much happier and more himself." 

                                                                  - Elise k
ALL NATURAL INGREDIENTS FOR SEIZURES & EPILEPSY
Skullcap (Scutellaria lateriflora)
is typically used to restore the balanced and healthy function of the nervous system, especially when anxiety, tension and stress have overstimulated the nerves.  Skullcap was given traditionally to help reduce spasms and other symptoms of Epilepsy.  Skullcap serves to gently and safely ease the mind and reduce nervousness.
Passionflower (Passiflora incarnata)
has been used by herbalists for centuries to soothe, strengthen and stabilize the nervous system.  Passionflower contains a number of alkaloids, glycosides and flavonoids that are believed to be responsible for the herb's therapeutic qualities.  Herbalists often prescribe Passionflower to tonify or strengthen the health of the nervous system with regular use.  Passionflower also has a gentle calming effect that can benefit pets suffering from anxiety or stress.
Oatstraw (Avena sativa)
is a gentle, nutritive herb that historically was given to relieve symptoms of epilepsy.  Oatstraw often benefits animals with excess nervous energy, tension and anxiety.  This calming, balancing herb has also been used to promote longevity in India's Ayurvedic tradition of medicine.
Valerian (Valeriana officinalis)
 is a mild sedative herb that has been used medicinally for at least 2,000 years.  Valerian is considered to have anxiolytic properties, meaning that it can be very effective in reducing anxiety or stress.  Valerian has also been used traditionally to help with insomnia, restlessness and spasms.
St. John's Wort (Hypericum perforatum)
provides gentle and lasting support to the nervous system and brain.  St. John's Wort has been used for a variety of nervous system disorders, to ease tension, restlessness and stress.  St. John's Wort is classified as a nerve tonic for its ability to improve nervous system health with regular use.
Each bottle of Seizure Symptom Support contains 2 FL OZ (59mL), Minimum 2000 drops. 3-month supply (varies depending on administration frequency).

Use 2-3 times daily. 
Administer drops directly into mouth, or dilute with water and administer via syringe directly into mouth. Drops may also be added to a small amount of wet food or water, as long as entire dose is consumed consistently.
Cats under 10 lbs: 6 drops
Cats 10-15 lbs:  10 drops
Cats over 15 lbs: 15 drops
In acute cases, one dose every 15 minutes up to 6 doses may be administered for symptomatic relief. Repeat as needed for prevention. 
Here's What Jackie and Chris Have To Say About Seizure Symptom Support!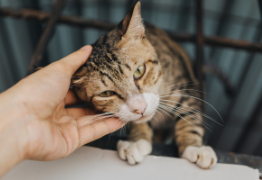 I was very concerned when my Kai had his first seizure. I was so uncertain and what to do and all the info I found on prescription meds and their side effects made me terribly uneasy. Luckily while searching for alternatives I found Prana Pets. Their Seizure Support is a Godsend. It has every ingredient necessary to fights seizures packing into one bottle. Kai has not had a seizure in months!
Have an adorable Napoleon cat named Larry. Baby is 3 and has mild epilepsy & seizure symptoms. He gets dazed and does not move then starts to shake a bit. The whole episode lasts about 1-2 minutes and it seems to happen every couple of weeks. I started your Seizure Support system about 3 months and he has not had a seizure since!
*The testimonials reflect the experiences of customers who used our products. However, individual results may vary. We do not claim, nor should the reader assume, that any individual experience recounted is typical or representative of what any other consumer might experience. Testimonials on this website are not intended, nor should they be construed, as claims that the products can be used to diagnose, treat, or cure, any disease. No testimonial has been clinically proven or evaluated by the FDA