Thank You! Enter Code Sinu10 For $10 Off The Sinu 
Sinu-Help - Sinus infections in Dogs and Cats
The homeopathic formula to help relieve symptoms of nasal and sinus congestion including sneezing in dogs  
Supports the reduction of mucus discharge and congestion from the nose and sinuses
Promotes the easing of inflammation and discomfort in the sinuses
Promotes the opening of blocked, inflamed nasal passages for improved breathing
Supports the soothing headaches and sinus pressure
Supports the elimination chronic, frequent sneezing
& Free Delivery in the USA
100% Money Back Guarantee

The homeopathic formula to help relieve symptoms of nasal and sinus congestion including sneezing in dogs  
Supports the reduction of mucus discharge and congestion from the nose and sinuses
Promotes the easing of inflammation and discomfort in the sinuses
Promotes the opening of blocked, inflamed nasal passages for improved breathing
Supports the soothing headaches and sinus pressure
Supports the elimination chronic, frequent sneezing
      Sinu-Help can be used as needed for immediate, effective relief or on a daily basis for ongoing support. Dogs of all ages can benefit from Sinu-Help, and the ingredients are safe to administer alongside other medications and supplements.  Like all Prana Pets formulas, Sinu-Help relieves symptoms without side effects or dangerous health risks, even with long-term use.
    Vet Approved and Recommended 
Andrew Turkell, DVM, CVA, CCRT, CHT-V 
        "Prana Pets has created a tincture that can help,  I absolutely support this herbal remedy!"
Works Great Against Sinusitis!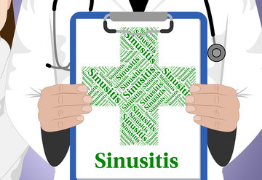 Sinusitis, or inflammation of the sinuses, is a common condition among cats and dogs.  Symptoms can be acute and serious in cases of a sinus infection, or low grade and chronic when allergies are present.  When the sinuses are inflamed, the nose tends to become blocked because the sinuses cannot drain mucus properly.  Breathing becomes difficult, and sinus pressure and pain typically follow.  Pets suffering from sinus congestion and inflammation may also exhibit reduced appetite, runny nose and sneezing as well.
        The underlying causes of sinus and nasal inflammation can range from infection to environmental allergies.  While antibiotics may sometimes be necessary in cases of infection, these medications do not address allergies and are generally not very effective in relieving symptoms.  Prescribed drugs often bring negative side effects, and may not always be appropriate for long-term, daily use.  For this reason, many pet owners seek out a safe, natural and effective alternative to synthetic decongestants and allergy medications.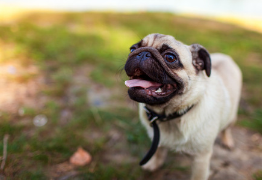 T-bone approves!
"We started giving our pug T-bone Sinu-Help when he had sinusitis and it helped clear up his symptoms right away. My girlfriend and I were very impressed. I didn't expect it to be useful for allergies too, but we tried it for that too and T-bone finally has relief from his constant runny nose and sneezing! It's good to have on hand if your dog deals with allergies or any kind of sinus issues."
Brain W- 
Sinu-Help contains a proprietary blend of the following homeopathic remedies in therapeutic dosage:
      Euphorbium Officinarum , Hepar Sulphur Calcareum , Kali Bichromicum   Luffa Operculata,  Pulsatilla, Teucrum Marum 
*For More Info on Ingredients Click Here
Sinu-Help (3 Bottles For The Price of 2) - Sinus infections in Dogs and Cats
Homeopathic formula to help relieve symptoms of nasal and sinus congestion and sneezing. 
Reduces mucus discharge and congestion from the nose and sinuses
Eases inflammation and discomfort in the sinuses
Opens blocked, inflamed nasal passages for improved breathing
Soothes headache and sinus pressure
Relieves chronic, frequent sneezing
& Free Delivery in the USA
100% Money Back Guarantee

Homeopathic formula to help relieve symptoms of nasal and sinus congestion and sneezing. 
Reduces mucus discharge and congestion from the nose and sinuses
Eases inflammation and discomfort in the sinuses
Opens blocked, inflamed nasal passages for improved breathing
Soothes headache and sinus pressure
Relieves chronic, frequent sneezing
Euphorbium Officinarum 12X
is used to relieve a headache, congestion, difficulty breathing, coughing, mucus secretion from nasal passages
Hepar Sulphur Calcareum 12C
is used to relieve inflammation of the mucus membranes, headache, coughing, wheezing, moist breathing, nasal inflammation and other symptoms of sinus infection
Kali Bichromicum 30C
is used to relieve runny, watery discharge from the nose and eyes, inability to breathe through the nose, chronic inflammation of the sinuses, coughing, chest congestion, violent and frequent sneezing
Luffa Operculata 6X
is used to relieve acute or chronic inflammation of the mucus membranes in the nasal cavities, headache, and symptoms of sinusitis
Pulsatilla 30c
is used to relieve frequent sneezing, itchiness in the nose, green or yellow nasal discharge, sinus inflammation, the build-up of mucus in the nasal passages
Teucrum
Marum 12X
is used to relieve the build-up of mucus in the nasal cavity, frequent sneezing, itchy nose, obstruction of the nasal passages, and chronic congestion