Thank You For Subscribing!  Enter Code ADRENAL30 for 30% Off!
Welcome to 10 Natural Ways to Fight Cushing's Disease.
Cushing's Disease in Dogs has so many confusing symptoms. In fact, it might not be Cushing's at all. In some cases, it's just the thyroid acting up, diabetes, or maybe just the aging process. Or possibly, it could be pre-Cushing's, so seeing your veterinarian and having your dog diagnosed is essential. I will also share with you my 5-star rated Cushing's Killer Combo.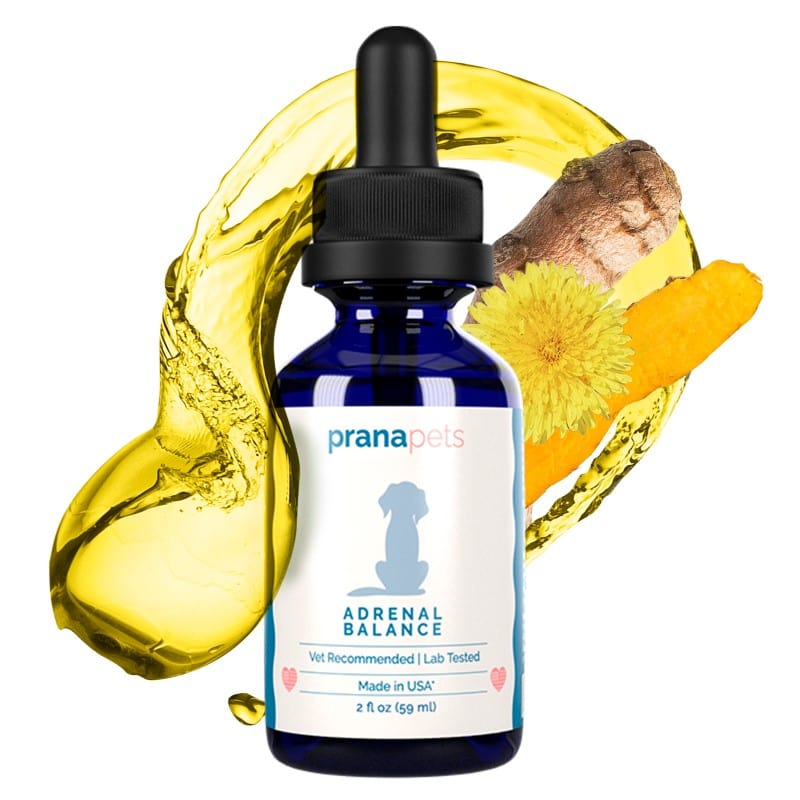 Natural Treatment for Cushings Disease 
Promotes balanced function of the adrenal and pituitary glands
Supports the health of the endocrine system
Helps relieve excessive urination

Promotes the healthy growth of skin and fur
Enhances energy levels & stamina
Vet Approved and Recommended
"Prana Pets has created a tincture that can help level both increased and decreased adrenal functions. Raised adrenal and lower adrenal function can be confusing for the pet owner, and concerning for pet and owner. I absolutely support this herbal remedy."
Andrew Turkell, DVM, CVA, CCRT, CHT-V


Enter code
Adrenal

30

at checkout for 30% off your order!
Drugs Commonly Used when Diagnosed


If a diagnosis is achieved drugs that might be used are Trilostane and Milotane. With these types of drugs, a veterinarian must balance giving just enough to reduce clinical signs but not too much to create side effects
Another drug commonly used for Cushing's Disease is called Anipryl which is used to mainly treat canine cognitive dysfunction.  Developed originally as a drug called Eldepryl for Parkinson's patients the active ingredient Selegilline increases the concentration of a chemical called dopamine which stimulates dopamine receptors in the brain and thereby assists in many cognitive processes. It's amazing how a drug intended for human Parkinson's Disease is now a drug helping Dogs with Cushing's disease think, act and focus like their younger self. Because Anipryl is so Cognitive focused dog owners have made statements like, "It has brought my dog back". But again along with the good comes with Anipryl comes a laundry list of the bad common "Side-Effects".
The symptoms of Cushing's Disease can include symmetrical hair loss, distended belly (pot belly), thin skin, excessive drinking and urinating, ravenous hunger, aggression, confusion, fatigue and skin infections. Many dogs have only a symptom or two that can be attributed to aging and go undiagnosed. It's best though to know if it's Pre-Cushing's so full blown Cushing's Disease can be prevented.
 Top 10 Natural Ways to Fight Cushing's Disease
1. Food, glorious food! 

We've all been taught, including veterinarians, that there are solutions for every dog in a bag or a can. But, Cushing's Disease presents a unique challenge. Holistic veterinarians recommend diets that are high in protein, low carbohydrate and grain and potato free.
Kibble is not recommended but fresh homemade purchased cooked or raw USDA canned food is highly recommended.
The brands that I am recommending are all either manufactured in a USDA facility or are referred to as "human grade." These are real foods that meet the minimum AAFCO guidelines but are NOT processed dog foods from typical dog food manufacturers.
Food Recommendations:
• Freeze dried or dehydrated foods – Stella & Chewy, Only Natural Pet, Grandma Lucy's, Primal and The Honest Kitchen
• USDA human grade canned food – Tiki Pet
• Frozen home-cooked food – Fresh Pet
• Raw frozen food – Primal
* When using raw, freeze-dried or dehydrated food, it is best to have a veterinarian's blessing.
2. Veterinary Homeopathy


The more diluted the medicine is, the more powerful it becomes. That's the concept behind homeopathy. Holistic veterinarians recommend remedies that include the following for Cushing's Disease:
• Burdock helps with skin disorders and nourishes the liver.
• Dandelion nourishes the digestive tract, liver, kidneys, adrenal glands, and it contains nutrients for healthy skin and hair growth.
• Ginseng is ideal to regulate blood sugar and to increase energy levels. Ginseng is an adaptogenic herb and has been studied for the benefits on the HPA (hypothalamic-pituitary-adrenal) axis.
• Licorice is often prescribed by herbalists to help balance adrenal function when cortisol levels are elevated.
3. Acupuncture
Acupuncture will help with age-related issues and Cushing's Disease and it has no side effects. Acupuncture improves blood flow, which increases oxygenation of the tissues. It also relaxes muscles both where the needle is inserted, and muscles located elsewhere in the body, so it helps to reduce joint pain. Dogs with Cushing's Disease have experienced a decrease in nausea and an increase in appetite after acupuncture sessions.
5. Cushing's Killer Combo
Cushing's Killer Combo is a system designed to help manage Cushing's Disease and the related conditions. It is rated 5 stars by independent third-party reviews. The Cushing's Killer Combo is 100% natural and contains beneficial western herbs that have been used in natural medicine for many decades to manage the disease.
7. Water (H2O)
Water plays an important role in all species as it is the body's best detoxifier and filtration system. Dogs with Cushing's Disease drink more and urinate more, which can cause dehydration. Use high-quality purified water or distilled water. Spring water is not advisable because of the unknown and high mineral content. Have your veterinarian check your dog's electrolytes and if they're out of balance you can make a simple electrolyte formula at home with sugar and water to keep them well hydrated.
9. TCM or Traditional Chinese Medicine
TCM or traditional Chinese medicine has been used for thousands of years and is considered a highly regarded medical protocal in China. The Chinese have a special remedy for Cushing's Disease, specifically one herbal formula called Si Miao San. It works to relieve any inflammation in the body. It will also aid in better digestion and regulating levels of insulin. It is suggested that Si Miao San is most helpful for dogs that are always too hot, always panting and are overweight.
10. Fish Oil
Fish oil like tuna, sardine or salmon directly affects the skin and the fats or lipids circulating the blood, which will help with itchy dry skin and coat, and it can help your pet fight infections.
* At Prana Pets we always recommend speaking to your veterinarian to confirm a diagnosis and to discuss all medical and natural options available.


Up to 90% of those diagnosed are
Pituitary Dependen
t
which is a small tumor at the base of the brain in the pituitary gland
Up to 20% of diagnosed dogs are
Adrenal Dependent
which is a tumor that sits on top of the adrenal glands near the kidneys
And lastly, there is
Latrogenic
Cushings
Syndrome from Steroid overuse.
Enter code
Adrenal

30

at checkout for 30% off your order!
Hear What Laura and Jake Have To Say About The Adrenal Support!
Lark is our little prince. We care about him so much and seeing him suffer is unbearable. My husband and I were looking for a natural way to ease his symptoms and we found Adrenal Support. I'd tried other natural products but didn't see the relief we were looking for_ so we went ahead and tried it out and within about two weeks we saw GREAT improvements! We are SO grateful. Thank you Prana pets!
-Jake L. Westerly RI